---
Advantages: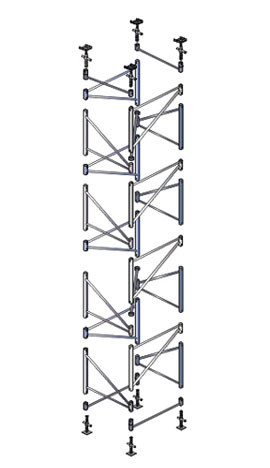 A very simple system, you just fit the elements on top of each other and you get ready-to-use shoring tower. Shoring tower are the ideal shoring solution for high slabs, bridges and religious buildings.
Easy erection:
This system is well studied to make erection a very simple operation. Its low skill requirements makes it very easy even for the most unskilled workers!
Handling:
By using the pigtail pins, one can even erect the Shoring Tower on the ground and then lift it all together by using a crane.
Simple store keeping:
With only three elements, in addition to adjustable base plates and top, keeping track of all items is quick and easy. Stackability is efficient and store keeping is straightforward.
Ease of calculations:
Shoring towers are simple to use in design: Just think of them as high props, whose load bearing is 220 KN up to 20m. (55 KN per tube.)
Heavy duty construction:
Shoring towers vertical elements are made of thick 48 mm tubes. Tower bases and heads are made of full round steel.
Elements: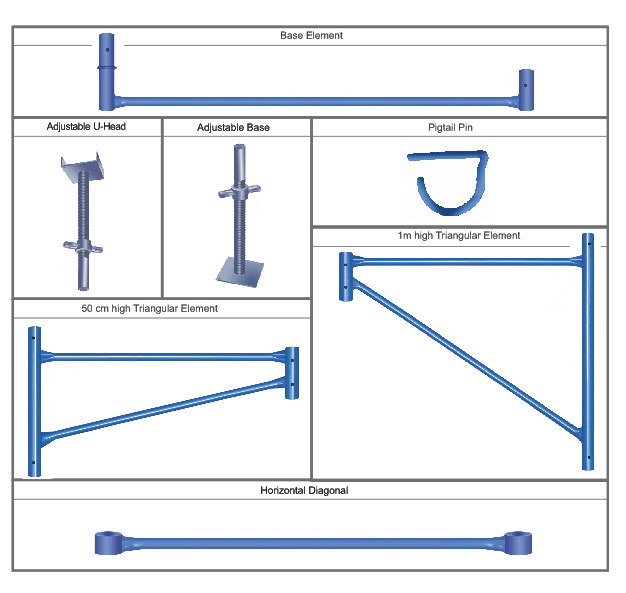 Major Elements: